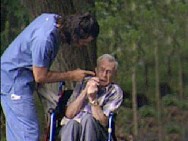 Did anyone watch
Primetime
the other night on ABC ?
They had this thing where they would have someone talk really loud on the phone in a restaurant to see how people would react, or have children be realllly annoying.
One scenario involved a 90 year old man in a wheeelchair with his caregiver (one in scrubs and then one in regular clothes, like a family member) in the park. Then they had the caregiver abuse the old man physically and verbally when someone walked by (he would smack his hands when someone looked away or push the old man in the wheelchair).
Holy crap. It made me really sad. Even though it was fake, I still felt so bad for the old man because you know this type of thing happens all of the time. It made me want to go out and be a gerontologic nurse, haha.
They said out of 100 people, 75 people walked by and only 15 people actually did something, either telling the man to stop or calling 911. Isn't that horrible? I know people can say, "oh yeah, I would do something," but when you get in the situation, it's difficult because for one--the caregiver was a man, so if you're a woman, you might be intimidated. Also, people do not like to get involved with conflict. However, I honestly think I would have done SOMETHING. I mean, GOSH!! It was horrible!!!
As far as the cell phone thing, I probably wouldn't have done anything, except sit there and be annoyed, but for this, I can honestly say something would have been done on my part.
From abc.com: What do the experts say?
The experts agree: Do something. Anything.
"If you're uncomfortable, call police officers or get involved," Gelles says. "Go up to the person on the receiving end of the abuse and say, 'I'm uncomfortable with how you're being treated. … Can I help you?'
If the victim responds, Gelles adds, follow his lead. If he's not capable of responding, turn to the caregiver. Tell the caregiver you're really uncomfortable with his or her behavior and ask for the name of the caregiver's employer.
The caregiver may not recognize that his or her behavior is abusive, Keating says. She suggests approaching the recipient of the abuse first.
"Smile and try to defuse the situation, or direct conversation toward the elderly person. Make the elderly person. … A person," she says.
"If you're not part of the solution, then you're part of the problem," Gelles says. "If you walk away from social injustice, you become part of the social injustice."