HAPPY 2007!!!

There's only about 4-5 days until the first day of second semester. I'm excited, stressed, and nervous.
I still haven't worked on my med. calculations book. We have to do the entire thing--it is loooong! I will begin today once I clean, shower, and make sure everything is in order. I wish they would post the syllabus for MS1 and Pharm. Psych is up. I have about 10 chapters to read, but fortunately that class isn't until Friday 1:00, so I am not stressing about it too much.

Hope everyone is having a nice holiday break.
Yesterday I made some apricot lentil soup. It sounds pretty odd, but trust me, it is good. AND 16 GRAMS OF FIBER! WOO.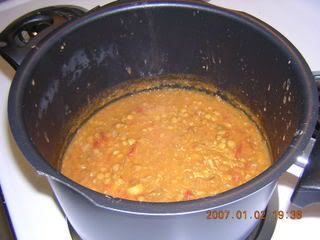 Here's the recipe:
http://allrecipes.com/Recipe/Apricot-Lentil-Soup/Detail.aspx